Spring is here at last!
And so are some of the finest seasonal wedding marquees Norfolk has to offer.
For those of you lucky enough to have yourselves a spring wedding, County Marquees East Anglia wishes you congratulations on your big day!
And for those planning for an upcoming date, we have decided to offer some advice. Perhaps you aren't going to be celebrating a spring wedding, but you can still have a seasonal theme.
And here are some ideas and scenarios to get you in the right mindset…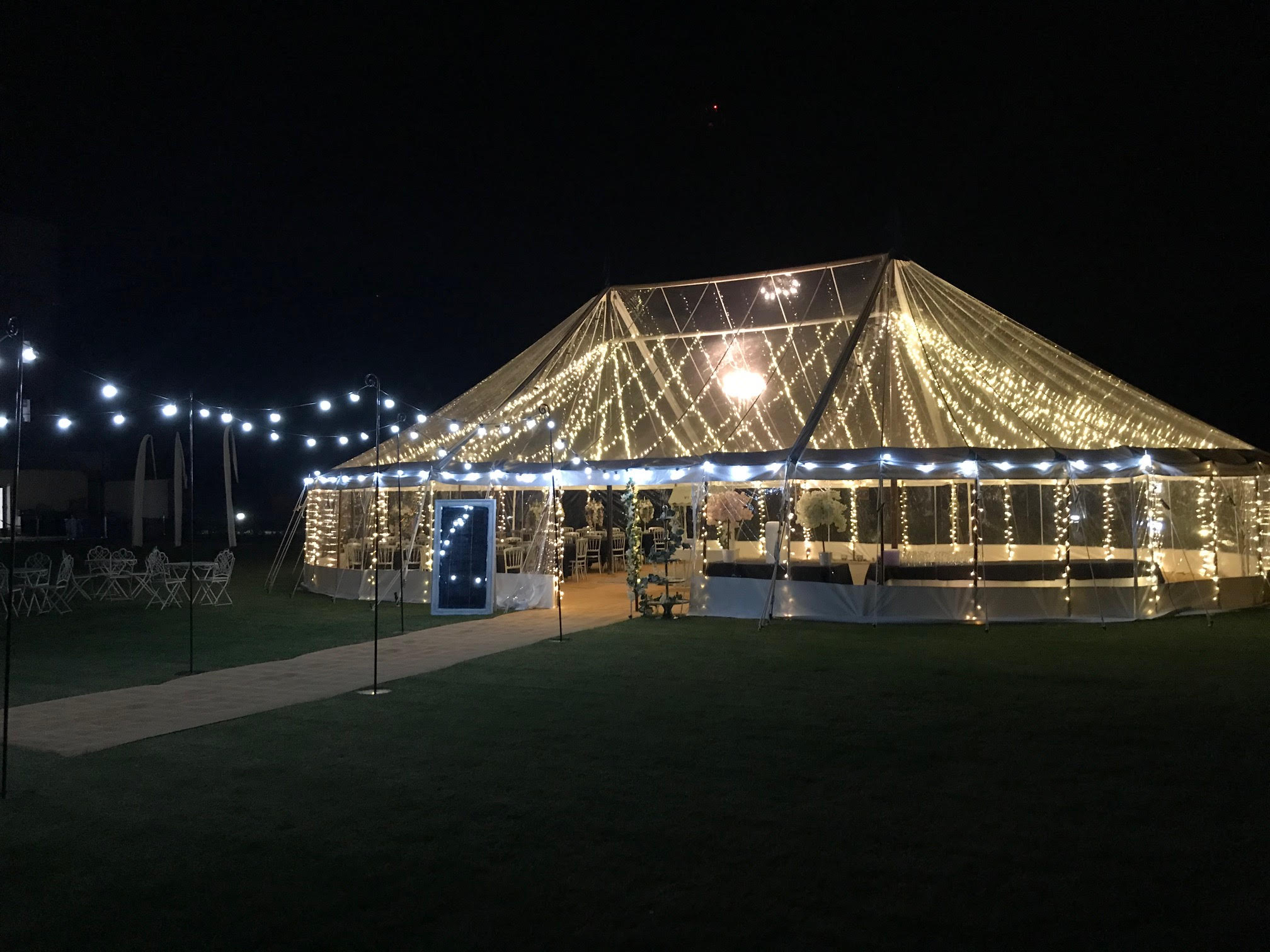 Summer
Summer is, in some ways, the most popular time for a wedding.
Lovely warm weather (most likely), blooming flowers, and more daylight than any other season!
Longer days mean you have ample time to take photographs (and there's nothing quite like the summer sunset). Not to mention, it always feels like the days last so much longer.
The colourful florals of summer make excellent additions to any and all themes!
Just imagine – a lovely sunny day on a private sandy beach in glowing sunlight. Chivari chairs that are lightly decorated are arranged in neat lines to reveal an aisle, leading you directly to the altar that overlooks the ocean.
Private beaches are available to rent here in the UK and could provide you with a stunning backdrop to a beautiful ceremony!
For the meal and reception, remain where you are or retreat to a nearby clearing. Under a marquee, you have ample space to dine and dance until your heart's content!
Whatever your preference, if you're looking to recreate this style or something similar, we'd recommend one of our traditional marquees from our range of the finest wedding marquees Norfolk provides. Lighter colour palettes complement and accentuate notable features of a summer wedding, creating an open airy feel to your theme.
To learn more about how to tailor our marquees to your theme, take a look at our blog.
Autumn
The uniqueness of Autumn is unmatched.
The vibrant auburns and oranges are softened by muted earth tones as the brightness of summer fades. But that doesn't make it any less exceptional than the sunnier seasons.
No, Autumn is an ideal season for a wedding if you're a fan of the alternative or just looking to stray down a different path for your big day.
Of course, Autumn weddings can still be very in keeping with old traditions and even new trends. The boho theme is a trend that continues to grow in popularity and it is a theme that compliments the Autumnal season exceptionally well.
Unique or eclectic table and glassware create an interesting aesthetic that adds a touch of character. Large floral arrangements create statement centrepieces and remain the focal point for most of the decor. There can be many different colour palette choices when it comes to boho but in Autumn, some of the best are palettes that feature earthy, muted colours that resemble Autumn and add further depth to the scene.
If you're looking for the finest wedding marquees Norfolk has to offer, and something similar to the boho aesthetic, we'd recommend taking a look at our range of Tipis. Adjustable in size, and in keeping with a beautifully warm palette, our range of Tipi's make a wonderful choice of venue for those looking to host an awesome autumnal wedding.
Winter
Winter is not a very favourable season for most people to host a wedding, usually for practical reasons. But every season has practical difficulties and Winter is not shown the love it deserves!
Imagine for a moment, a stunning, regal scene before you – an icy white fairy light canopy above your head, ivy cascading from lilies and white or blue rose centrepieces. With touches of silver, glass and fauna, you could have yourself a sophisticated indoor wedding fit for royalty!
If you're looking for an aesthetic like this, we'd recommend our transparent marquee. Fit with a heater, this marquee will keep you and your guests toasty as you share a wonderful night in a unique venue. As one of the finest wedding marquees Norfolk has to offer, this is a great choice of venue if you're looking for a venue that's a little different.
To learn more about a winter wedding under the stars, see our blog.
Wedding Marquees Norfolk
If you have been searching for the perfect venue for your dream wedding, the wedding marquees Norfolk offer is a good place to start. A better place to find yourself is on our website where you can browse a range of the highest quality marquees Essex, Norfolk, and the surrounding areas offer. Head to our contact us page to hire a marquee Essex, Norfolk and East Anglian counties.