The Clear Span marquee is our latest passion. We ensure that we are always in possession of the very best, latest technology.
This means we are able to offer you the widest range and finest varieties throughout the Essex, Suffolk, Norfolk, Cambridgeshire and East Anglian regions.
What is a Clear Span Marquee?
Clear Span marquee – a modular aluminium framed marquees with white PVC coverings. They benefit from no guy ropes and due to this can be situated anywhere, including hard surfaces such as concrete. This makes them an ideal solution for your event if you require something next to a building or perhaps over gardens or borders.
What are the advantages of a Clear Span Marquee?
Due to the design, when hiring this particular style of marquee you'll benefit from conventional style and modern technology. They are easy to assemble, even in high winds. So, cause less pre event disruption. Also providing huge advantages in the ability to place your marquee wherever you like, including limited spaces. With no internal poles you also have more interior space than other models. Guests enjoy a clear view, which this particular model can guarantee. Of course, when you work with us you also benefit from our extensive experience and knowledge.
With no guy ropes and poles these tents make great use of space and are very versatile. Meaning you can incorporate features such as fountains ponds hedges and trees with ease. With no guy ropes you can butt up against buildings and extend by adding an additional room.
View our Marquee Reference Size Guide for approximate marquee capacity.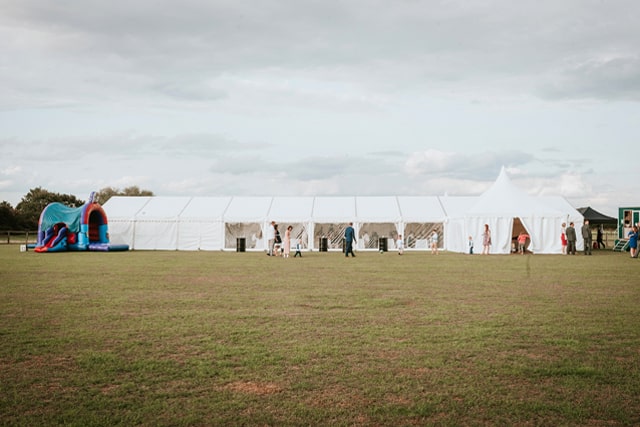 A clear span marquee with a Chinese Hat annexe bar tent at one end.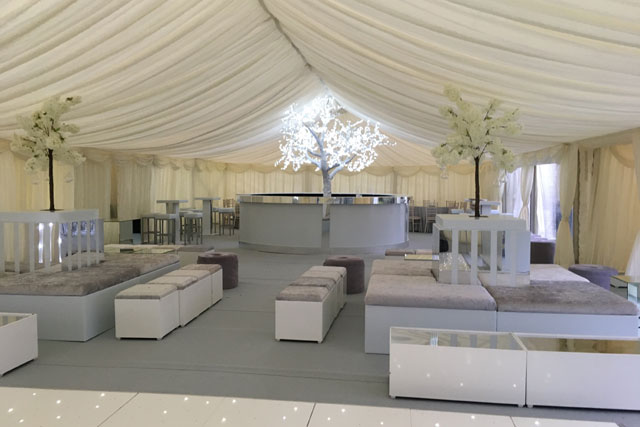 Inside one of our clear span marquees incorporating trees.
Photos from some of our recent installations of this type of marquee
Photos from some of our Clear Span Marquee installations
There are no poles needed for our Clear Span marquees, allowing for a large internal area.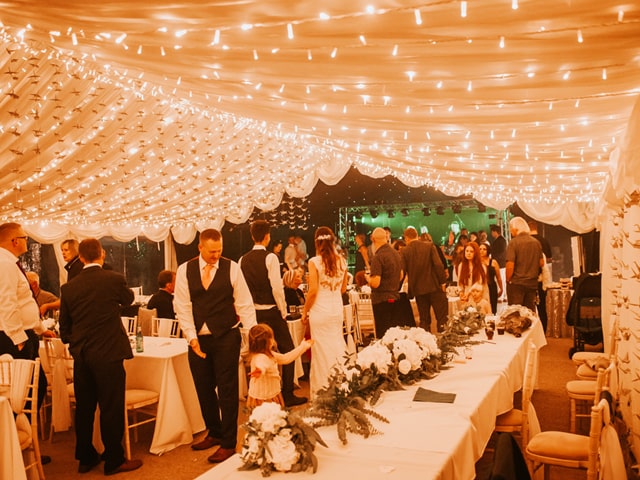 A clear span marquee with lining, lighting and a stage at one end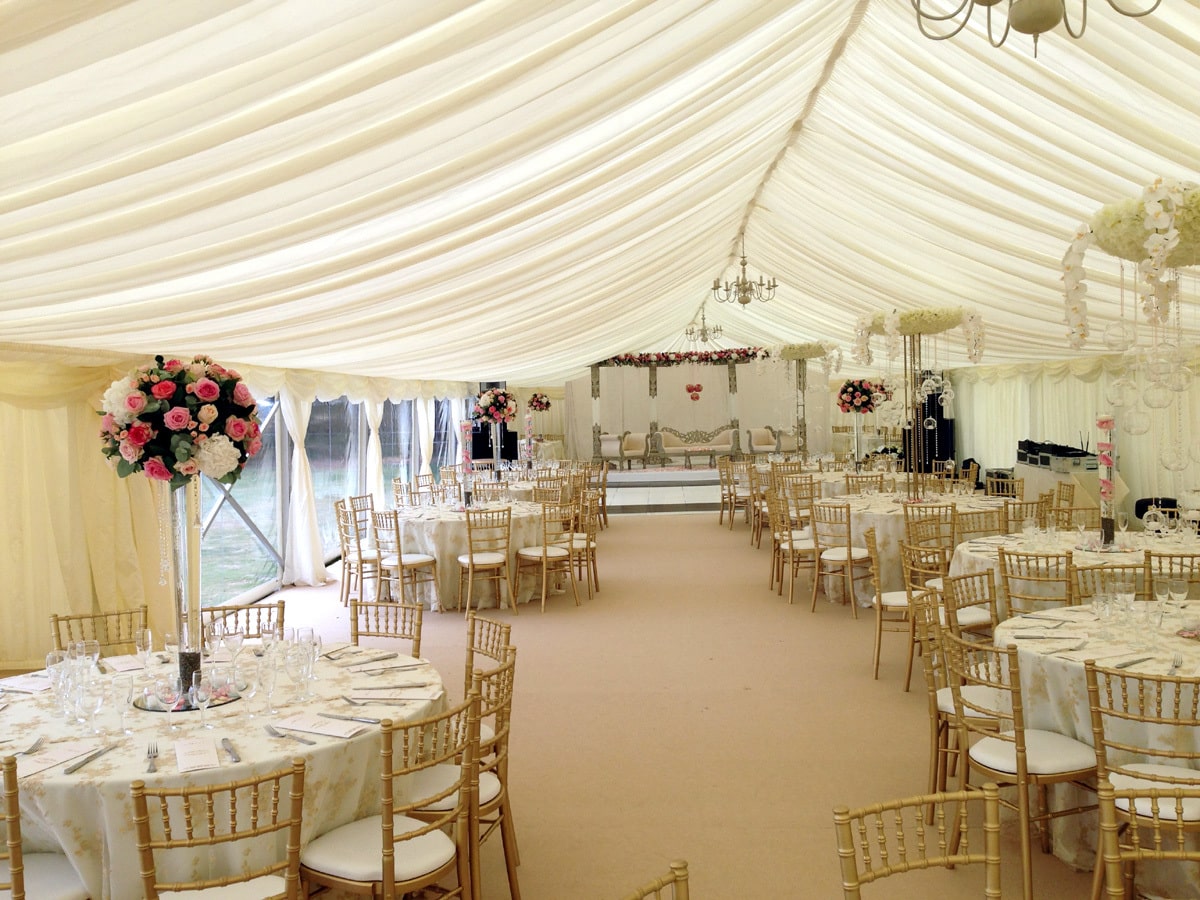 The inside of one of our clear span marquees with no central poles.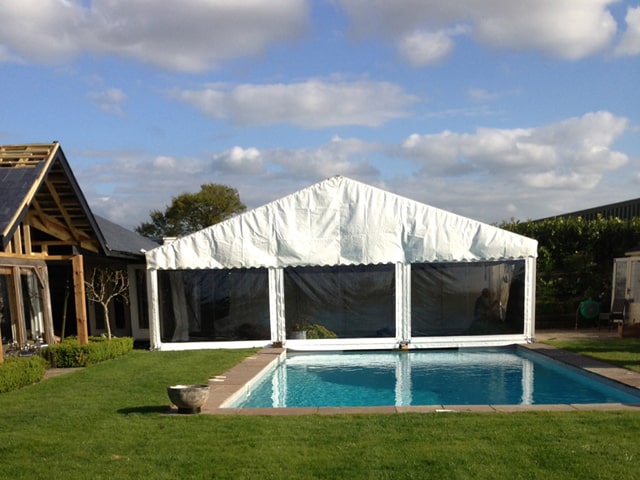 Clear Span marquees can incorporate outside features such as plants or swimming pools.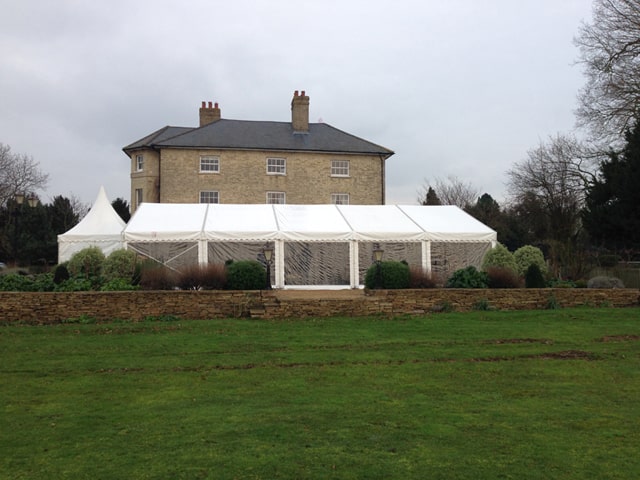 Above is an example of a clear span marquee connected to a building, one side of the marquee has been removed allowing for access.
These particular marquees are perfect for anyone whose event requires an attractive, functional space. Offering maximum internal capacity with minimum fuss. Any occasion from a wedding to a business event, our private or corporate hire customers are never disappointed.
We provide marquees for hire to all areas of East Anglia including Essex, Suffolk, Norfolk, Hertfordshire, Bedfordshire and Cambridgeshire.
Contact us by clicking the button below, or alternatively please feel free to visit our Facebook page for up to date news, reviews and images of recent events!