Traditional marquees require wooden poles and guy ropes; as a result of this the marquee must be situated on grass.
Should you require a marquee for solid ground area please view our Clear Span marquees.
A traditional marquee provides an elegant finish to your event; it offers a beautiful focal point and looks extraordinary in a garden setting or with the backdrop of a country house.
As you can imagine, a traditional marquee is a top choice for many of our customers.
Luxury lined or rustic unlined look
You can opt for your traditional marquee to either be fitted with lining or remain unlined.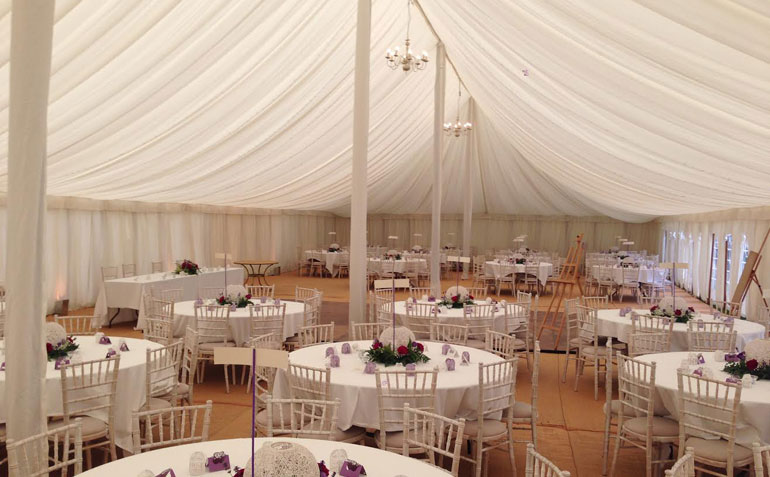 Traditional lined marquee with coconut matting, round tables and lime-wash chivari chairs.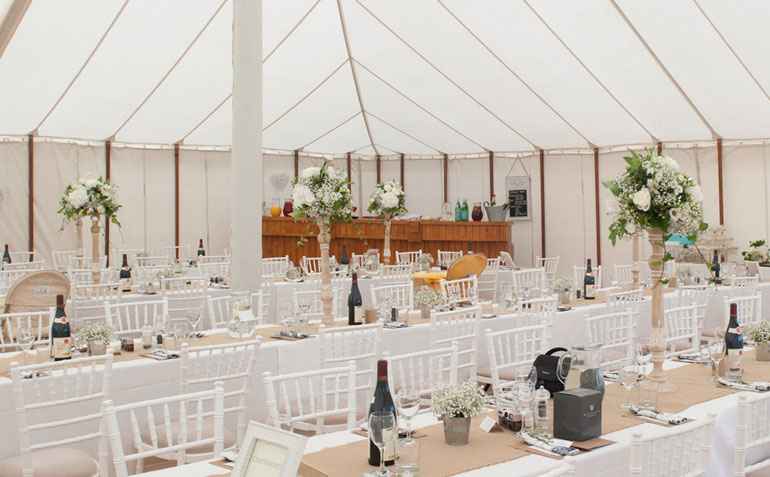 Traditional marquee with rustic unlined interior.
Traditional Marquees Essex
A great benefit of our traditional marquees is the help they provide in allowing the interior to breathe, a welcome relief on a hot summer's day.
Traditional Marquees are a fantastic 'empty space' for you to customise the space, as you see fit. You can design your own décor and atmosphere according to your event, creating a design that is unique to you.
We also provide a selection of high quality linings; lighting, flooring and dance floors to add spectacular effects to your exclusive setting. For details please view our finishing touches page.
View our Marquee Reference Size Guide for approximate marquee capacity.
Photos from some of our Traditional Marquee installations
Photos from some of our Traditional Marquee installations
We provide traditional marquees for hire to all areas of East Anglia including Essex, Suffolk, Norfolk, Hertfordshire, Bedfordshire and Cambridgeshire. We would love to hear from you so please feel free to call us to discuss your thoughts, questions or requirements.
Contact us by clicking the button below, or alternatively please feel free to visit our Facebook page for up to date news, reviews and images of recent events!