If you are looking for corporate marquee hire for your next corporate event, you have landed in the right place! Our team at County Marquees East Anglia has a combined 60 years of experience in working with businesses across Essex, Suffolk, Norfolk, and London to deliver the ideal corporate marquee hire solution for their corporate event, wherever the venue is located.
We offer a fully transparent, bespoke service that is tailored to your exact requirements. We will be on hand all the way through this process, from the initial discussion on what corporate marquee hire option would suit your event best, to a site visit to ensure the correct size marquee for the number of guests you expect will comfortably fit the venue, through to being on call on the day of the event itself. With County Marquees East Anglia you can be sure you are in safe hands and your corporate event or staff party will take place in the beautiful setting it deserves!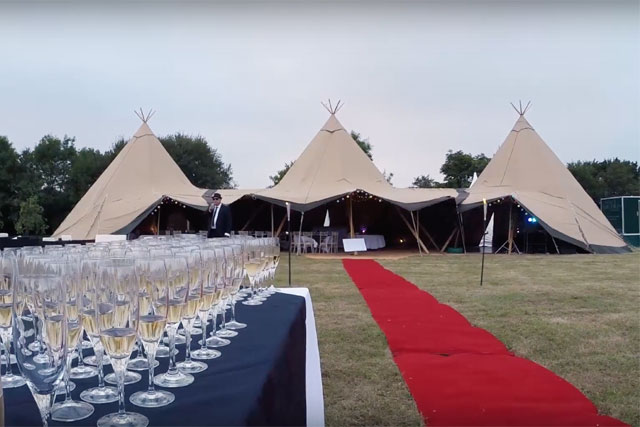 Our corporate marquee hire options are not only both beautiful and elegant but also come in a range of sizes, ensuring whatever the expected capacity of your event we will have a solution to suit. We employ a rigorous cleaning process whereby each of our marquees is hand cleaned after every event and stored in a controlled environment, meaning we supply gleaming marquees that look brand new at each event!
The types of events we have provided our corporate marquee hire services for are varied, and include:
Summer/Christmas Staff Parties
We have been lucky enough to work at some pretty amazing staff parties over the years, and if your staff ever deserved a huge summer blowout or Christmas party it is after the awful last year! What better way to treat your staff after covid could there be than organising a fantastic summer party? If all things go to plan with the government roadmap, all restrictions on social gatherings should be lifted on June 21st. Meaning you can reconnect with your staff and colleagues face to face! Our marquees are ideal for every type of staff party, whether an informal get together or full on sit down meal. Our corporate marquee hire options can be large enough to hold a mobile bar, as well as room for entertainment should you want it. Plus, you can be sure whatever the British weather decides to do, you will be protected!
Product Launches
A product launch is a serious business, this is the culmination of weeks, months, or even years of hard work which has lead to this point. Depending on the nature of the product, you could have journalists, bloggers, analysts, influences, and probably the most important guests…prospective clients, all in attendance. For many businesses, their place of work isn't the most suitable location to hold such an important event. This is where we come in! By utilising our corporate marquee hire services you have control of holding your product launch pretty much wherever you want. We can erect a marquee to create the perfect space for you to wow your guests with your amazing new product.
Conferences
Conferences are the lifeblood of most industries. Groups can come together to listen to up to date industry news, hear from experienced speakers on a specific subject, and generally discuss all things relevant to their business. It is a great opportunity to network and can be a fantastic place to form new ideas and plan strategies. We have erected marquees to be used as a conference space throughout East Anglia, as well as in London. A marquee can offer a different feel to a conference, as this gives you more scope on where the conference can be held. Why confine yourself to a stuffy hotel conference room when you can bring your guests to a more beautiful setting? We also offer seating options and stages for speakers, so can provide everything you need to make your conference go with a bang.
Training Workshops
An alternative to listening to speakers at a conference is to take a more hands on approach in a training workshop. In most industries, there is a need to keep up to date with industry trends and changes, and this is not always possible to do on your business premises. We have corporate marquee hire options that are ideal for workplace training workshops, allowing your staff an appropriate area in which to add to their existing skills.
Team Building Events
Although the last year had put paid to team building exercises due to obvious reasons, we have provided marquees for many team building events in the past, and are already taking bookings for events later in the year. A marquee provides an excellent focal point for team building activities, either as a briefing area, somewhere to have lunch, or as an actual space for your team building fun! If you are out in the middle of nowhere it also provides shelter from the weather, ensuring you can continue your activities rain or shine.
Corporate Marquee Hire
So as you can see, we are the only company to approach for corporate marquee hire. Whatever the type and size of your event, we will have the ideal corporate marquee hire solution to suit. Get in touch with our friendly team to hear more. We look forward to hearing from you!