With 2019 nearly over and 2020 beckoning, we can finally catch our breath after a very busy year of marquee hire in Essex, Suffolk, Norfolk & beyond, to look back at some of the wedding trends that caught our eye in 2019!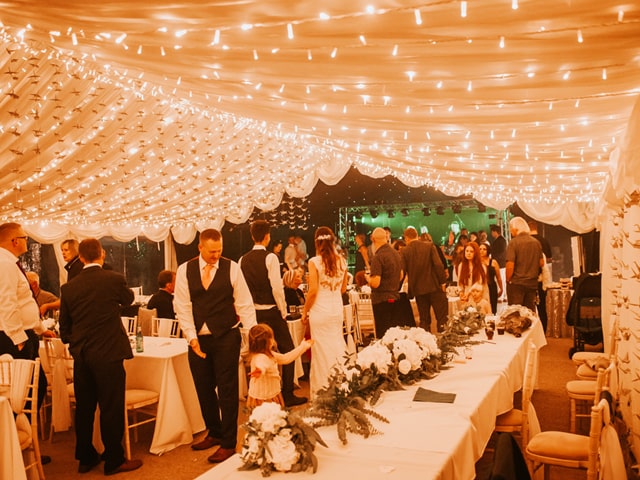 There is something unique about wedding trends, although they evolve year after year and each year seems to be distinctly different from the previous year, it's actually unusual that a new trend replaces an old one! If anything, each year just adds new ideas and trends to all previously used popular big-day ideas that already exist, meaning couples can not only pick and choose from established trends and ideas of the past but are also able to add a touch of the moment with some up to date and stylishly new trends of their own.
With that in mind let us have a look at some of the trends that have made us sit up and notice in 2019!
Return to classic decor
After the big Royal Wedding between Prince Harry and Meghan Markle in 2018 we have seen a popular trend in Classic Floral Decor at a big number of weddings this year. Although a timeless classic, we have seen some contemporary twists on this with dried flowers being used to great effect!
More women making speeches
Something we have definitely noticed this year was more Mum's, Sister's, Daughter's and Grandmother's take the mike and give a speech, often resulting in hilarious and very emotional moments! This is a trend we hope continues into 2020!
Alternative evening entertainment
Traditionally the standard wedding reception has featured either a band, DJ, or both, (sometimes followed by Uncle Gary serenading the stragglers with his 1am version of "My Way", if you're really unfortunate). Not so 2019, where we saw some couples shake things up by having multiple bands play sets in the same evening, we've seen a few karaoke's this year plus a silent disco!
 Writing your own ceremony
Another big trend of 2019 was more couples discarding the traditional wedding vows in favour of personalised declarations of love. Although popular for many years at Civil Ceremonies, we have seen an increase of these at other venues such as Marquee Weddings (of course!) and Manor Houses etc.
So these have been some of the trends we noticed in 2019! If you would like more information on marquee hire in Essex, Suffolk, Norfolk or beyond for 2020 please contact us here.