There's nothing quite like an amazing engagement party venue that blows your guests away.
And the other great thing about an engagement party? There are no rules!
Unlike a wedding, an engagement party has no dress code or etiquette. It can be as fun and outlandish as you wish. This is a time (and an excuse) to throw a lavish party for those you love and celebrate with any theme or style of your choice, unhindered by expectations.
But with so much choice, how could anyone possibly settle on one engagement party venue or theme?
We are here to help!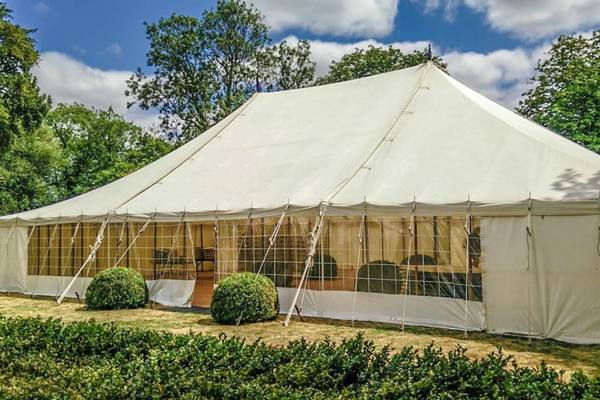 Fear not! County Marquees East Anglia is delighted to offer a broad range of marquees, from traditional to transparent and everything in between. So you can celebrate the way YOU like.
The 'Bohemian theme is increasing in popularity and it's clear why. There's an extravagance and a humility to the trend. Sustainability has never fit so well with a theme and it's easy to make environmentally conscious decisions when they enhance your aesthetic.
For those on a strict/tight budget, a theme that incorporates/celebrates budget-conscious materials and decor is a welcome relief. And it means you can afford to spend your hard-earned money on making bigger features of the celebration a bit more luxurious (like the engagement party venue, which should be a marquee obviously!).
If you're hosting a boho bash, then nothing compares to our Tipi Marquees! Perfect for hosting live music, these marquees are incredibly adaptable. Tipis can be linked together and the sides raised to create larger, more open spaces for those bigger engagement celebrations.
Whether it's a woodland clearing or a field setting, the tipi marquee provides an atmospheric engagement party venue that is perfect for celebrating an enchanting union.
Engagement party venues that wow!
It is testifiable that the most appealing, and consistent, aspects of all trends relate to one thing. People! For most, any celebration is only as important/good as the people that surround you. So if you're opting for the simpler approach, take a look at our sail cloth marquees. Simple and elegant, our sail cloth marquee provides a sophisticated structure to host an intimate gathering for the people you hold most dear. County Marquees East Anglia understands how important family and loved ones are in making any event. This is why we take pride in supplying a range of stunning marquee-style engagement party venues, which are fully equipped with interior heating to keep you and your guests warm all year round. Allowing you to continue creating cherished memories with the ones you love!
Of course, if you're looking for something a little more traditional, our clear span marquees make an excellent engagement party venue. Having no guy ropes or poles helps create a seamless look and means you can fully immerse yourself in your surroundings. They're easily assembled and incredibly versatile, giving those who have limited venue options the luxury they deserve. And everyone appreciates a good old-fashioned engagement party. Canapes and cocktails, and dancing into the early hours, nothing is quite as fun as a wedding…except an engagement party!
Make yours one to remember with an enchanting marquee-style engagement party venue!
Contact us now and start planning your engagement party today!