Having the perfect setting for your wedding is essential. Here at County Marquees, we feel that having a marquee for your wedding gives you freedom and flexibility to have the perfect day. Here are six top reasons why you should say yes to a marquee wedding.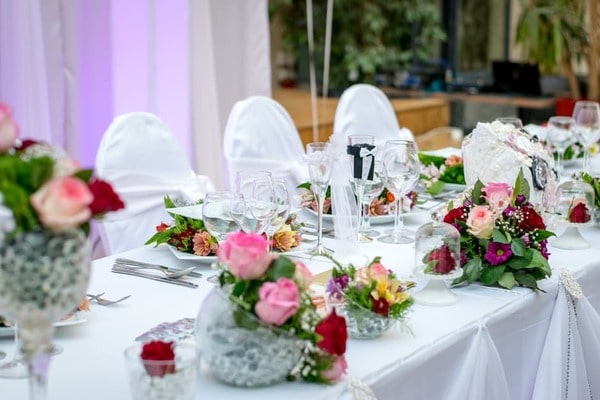 It's a blank canvas
When you hire a venue, you might feel constrained to what fits into the surrounding space. A marquee is a big blank canvas for you to design and decorate to your heart's desire. The possibilities for dressing up a marquee are truly endless!
You can easily work to your budget
As your marquee is your canvas, it's easy to accommodate any kind of wedding budget. Whether you have enough cash to really go to town, or you need to pare things back a bit. A marquee can allow you to buy in the decorations that fit your tastes and your budget.
You can bring the outdoors in
Do you want your day to be connected to nature, but you don't want to be completely at the mercy of the British climate? A marquee is the perfect middle ground. You can make the most of our fantastic British countryside while staying cosy indoors.
You have the freedom to choose your own food
A venue will most likely come with an accompanying caterer. This means that you're limited on the kind of foods your guests can enjoy. With a marquee, the opportunities for exciting foods are endless. Whether you want a traditional sit down meal or something a little more out of the ordinary like a hog roast or pizza buffet, a marquee allows you to choose any caterer to accommodate your needs.
You can invite as many (or as few!) people as you want
With a traditional bricks and mortar venue you're probably going to be restricted to the number of guests you can accommodate. By choosing a marquee you get more flexibility on the number of guests you would like to share your day. Here at County Marquees, our sizes range from 20×20 to 180×40. So, whether you want to invite 30 people or 300, there will be a marquee to fit your needs.
The party can continue all night long
If you're hiring a marquee for use in a garden or unused plot of land, the party doesn't have to stop until you want it to! While with a traditional venue you'll have to cut the party short, with a marquee you can continue your celebrations into the small hours.