In recent years, marquees have become increasingly popular for special events, such as weddings. Here at County Marquees East Anglia, with the best marquee hire Essex has to offer, we believe this is for good reason. Marquees are affordable, unique, spacious and above all, they're absolutely stunning.
If you've never planned a marquee wedding before, it's hard to know where to start. Marquee weddings are a relatively new craze, which means it's harder to find weddings to take reference and inspiration from. It's even harder to find somebody with previous marquee wedding planning experience to ask for advice.
Experts in all things marquee, County Marquees East Anglia are here to help. Thanks to our years of experience and hundreds of happy, successful marquee weddings (check out what previous customers have to say here) we've been able to compile a list of our top tips for planning an astounding marquee wedding.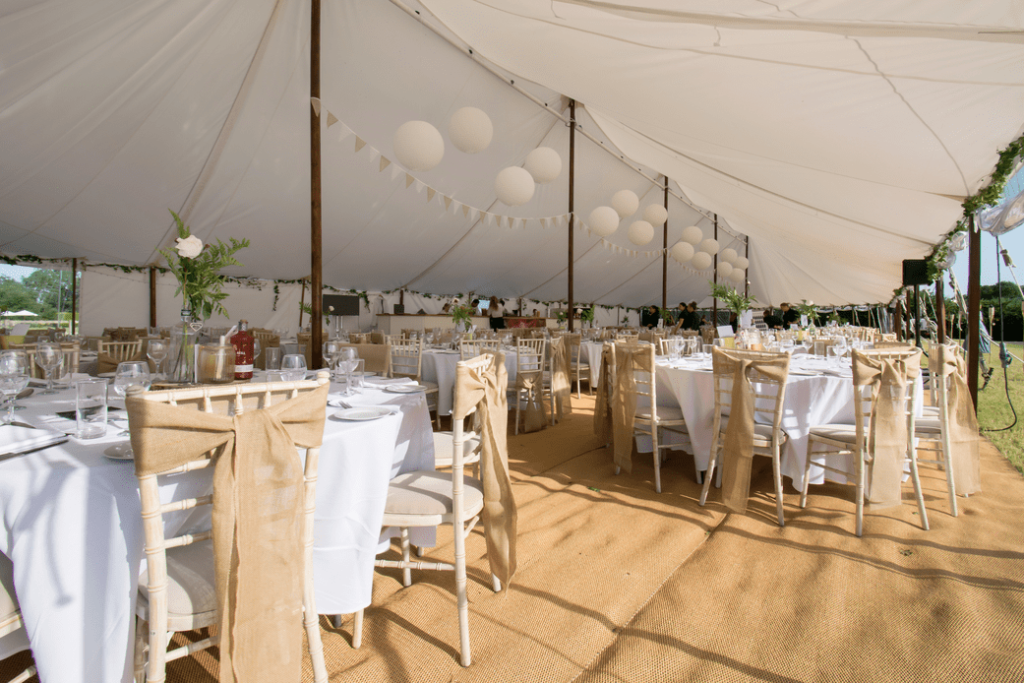 What's your style?
Just like weddings, marquees come in a range of different styles. Our first top tip is to take some time to choose the best marquee style for the type of wedding you want to create. This is a very important aspect and it could be what makes all the difference.
Sail Cloth Marquees are perfect for nearly all wedding styles. They offer a blank canvas (pun intended) for all your wedding creativity to go wild and work well in nearly any weather. They provide protection from the sun on a hot day and can be well-ventilated once the sides are pulled up to provide some fresh air. If your big day turns out to be wet, the sides can be pulled down and all guests will be sheltered from the rain.
If you're going for a boho, festival vibe our Tipis are perfect for adding the fun and flirty uniqueness you desire to your day. They're a great addition to any wedding, and because of the thicker material and darker interior, they're the perfect choice for those wanting to add a more intimate, romantic feel to the night.
With County Marquees East Anglia, we've got a style of marquee perfect for your desired marquee wedding style. Check out more options here to see if we've got a marquee for your wedding style.
Decoration
It's a good idea to start thinking about decorations and furniture early on in the planning process. Although rare, some companies won't allow outside usage of their decorations or furniture, so it's good to allow yourself time to shop around to find ones that do.
There's also no guarantee once you find furniture and decorations that are marquee approved, that they'll be available for hire on your big day. Being prepared, shopping around, and booking early can help avoid a wedding disaster.
Alternatively, if you prefer to be stress-free and enjoy the planning process, County Marquees East Anglia may be the way to go. When you plan a marquee wedding with us, you can be assured the decorations and furniture you desire from our range will be available for your big day, for an affordable price, and of course, perfect for marquee usage.
Our hirable furniture and decorations are all made to enhance the beauty of our marquees and fit any style of wedding. From chandeliers, festoon lighting and bunting, and beautiful wooden bars, to elegant tables and chairs, we've got everything you could be looking for.
Skip the long nights of scrolling, comparing online prices, and wondering if it's the right style and fit for your space. Opt for County Marquees East Anglia's high-quality, elegant and affordable options and make marquee wedding planning a little simpler.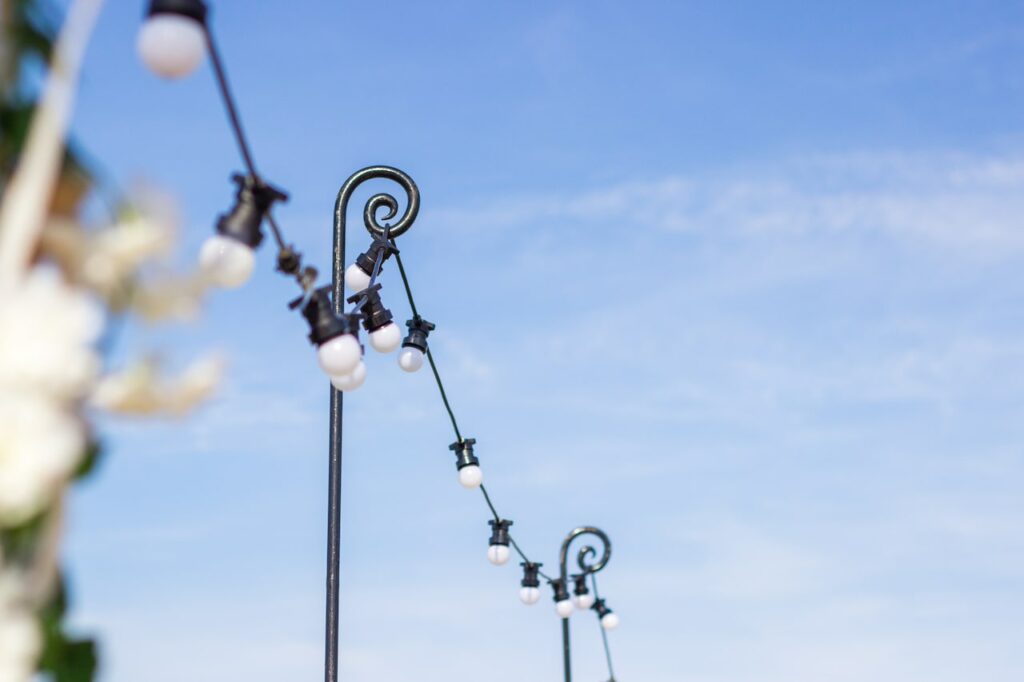 Take our advice
Our next top tip is to take our advice when it comes to recommended suppliers.
When searching for wedding suppliers for a marquee wedding, there's a little more than normal you have to consider. Does the supplier offer outside services? Do they have the right equipment to allow them to operate in a marquee? Are there going to be any obstacles they'll encounter with a marquee wedding?
County Marquees East Anglia has years of marquee wedding experience and because of this, we've witnessed the best of the best for marquee wedding suppliers. By taking our recommended supplier advice, we believe we can drastically shorten your wedding planning to-do list and save you the time you'd otherwise spend on hunting for suppliers.
We've met some truly amazing suppliers throughout the years, one of which is Plenty Of Thyme. This delightful catering company is passionate about providing delicious food and drink. What's more, they also have the capacity and equipment for outside catering, making Plenty Of Thyme the perfect option for catering at your marquee wedding.
Seasonal selection
When planning your marquee wedding, it's always a good idea to consider what season you are hoping to tie the knot in. One of our top tips is to make sure you are choosing the best marquee available for the time of year your big day falls.
A Spring or Summer wedding can bring long days and cool evenings. Our Sail Cloth Marquee is a great option for the warmer months. This marquee has the option of open sides for when you wish to let the fresh, summer air in during the day. When evening rolls around and the temperature cools, or you get a spring shower, the sides can be closed. This type of marquee makes for stunning photos, creates a relaxed atmosphere, and is all-around great for Summer and Spring.
If you are planning for an Autumn or Winter wedding, opting for a closed marquee may be the way to go. Our Clear Span Marquee allows you and your guests to enjoy the outside world from the warmth within via clear side walls. For an extra magical experience, our Transparent Marquee allows for stunning views of the night sky through the roof, meaning you can dance under the stars all night long!
County Marquees East Anglia, with the best marquee hire Essex has to offer, recommends taking a look at our wooden dance floors and marquee heaters for the colder seasons, found here. This is a great way to ensure everybody's feet stay dry and warm, and keeps your marquee at a comfortable temperature all night long.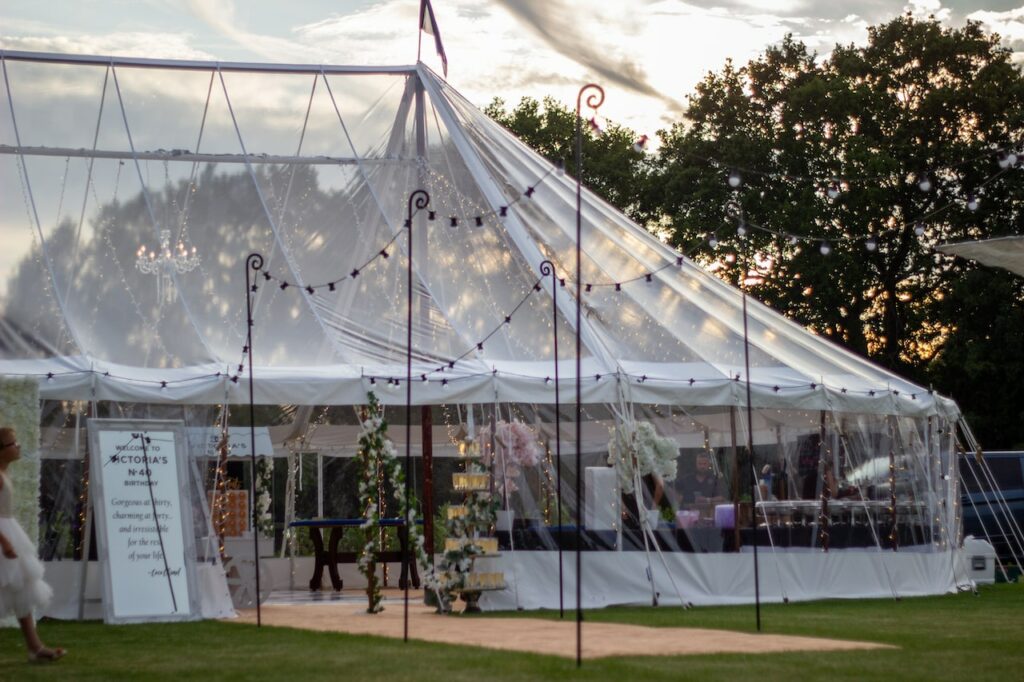 Plan a marquee wedding with the best marquee hire Essex has seen
County Marquees East Anglia is passionate about making your wedding night just as magical as you imagined it. When you choose a marquee wedding, you're one step closer to creating a unique, breathtaking big day that you and your guests will remember for years to come.
To find out more or to get booking, get in touch with our dedicated team here. We can't wait to hear from you!