Premier marquee company Essex-based County Marquees East Anglia, have been making special occasions even more memorable for over 20 years. Hiring a marquee is a fantastic way to give your big day a personal feel, but there are also many other little touches that can really set your big day apart. One way to ensure you and your guests have a great day is to offer outdoor wedding games for them to enjoy. So, without further ado, here are 13 great outdoor game ideas for your wedding courtesy of the best marquee company Essex has to offer!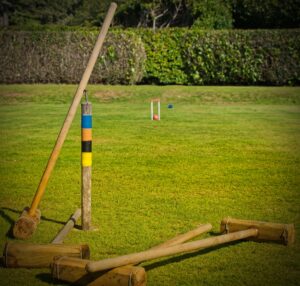 As most marquees are set up in beautiful surroundings it makes perfect sense that you want to make the most of your setting. By offering your guests a selection of outdoor wedding games to play ensures your guests will always be entertained.
As an experienced marquee company Essex based County Marquees East Anglia understand that most weddings are a mix of family, friends and colleagues. Many of these may never have met each other before. We have been at many weddings where these separate groups find it hard to mix (until several drinks have been consumed!) leading to a feeling of separate pockets of guests. Offering some classic and fun outdoor games can be the perfect icebreaker in these situations! It allows guests to mingle in a fun setting so that they can get to know each other. Outdoor games are also a great way to keep your guests entertained while you are busy having your wedding photos taken!
The expert marquee company Essex based County Marquees East Anglia have put together a list of some of the favourite outdoor wedding games that we know your guests will love!
Lawn Croquet
Lawn croquet is one of the quintessentially British games that is easy to play and can be enjoyed by all ages. By setting out a simple course of hoops your guests can battle each other by using rubber mallets to try and hit a ball through the hoops in the fewest shots. Just be sure to check with your venue first that they allow hoops to be driven into their grounds!
Horseshoe Tossing
Another traditional wedding game that has been played for hundreds of years is horseshoe tossing. The game can be played by multiple teams, the idea being to pitch a horseshoe to a target. Typically this is a stake driven into the ground around 40 yards away from where the thrower pitches their horseshoe. As horseshoes are made of metal and can be heavy please ensure the area is clear of guests (especially children!)
Giant Jenga
An enlarged version of the popular table game, giant Jenga is a fantastic wedding game for your guests to enjoy. This game can be played by a single player or multiple players and becomes a lot harder after a few drinks!
Limbo
Although this game is traditionally a beach game it can also be played on a soft lawn. Perhaps a game for the more agile guests, this game is very simple. Place a horizontal bar at a set height and watch as your guests try to limbo under the bar without knocking it over. Probably not a game to play while holding a drink….The question is, how low can you go!
Boules
A fantastic game for the kids (as well as adults), boules is a sort of lawn bowls but with a twist. After throwing a jack an agreed distance away from the players you take it in turn to throw the boule, with the aim of getting closest to the jack. There have been variants of this game dating back to the 6th century BC which makes it easily the oldest game on our list.
Coconut Shy
The coconut shy has been a fairground favourite for many years. This game gives your guests the opportunity to show off their throwing skills, with the added bonus of a coconut treat if they manage to knock one over. This is the best marquee company Essex has, County Marquees East Anglia, favourite!
Rounders
Perhaps not suitable for all venues, this game requires a fair amount of space to play. You will need two teams, one to take turns batting and one fielding. Full details of the rules of this game can be found here.
Giant Connect 4
Just like giant Jenga, this classic kids' game can be supersized so you can play standing up. Another game that suits all ages, this is a strategic game of wits played between two players.
Twister
Twister has been a great game to play at home for decades, so why not bring the fun of this game to your wedding? True, you need to be a little agile for this one but you can be sure there will be endless laughter from your guests as they end up in all kinds of awkward positions! This is probably one of the best games on this list that is as much fun to play as it is to watch others play.
Skittles
This game is the lawn version of ten-pin bowling and can be enjoyed by all. Simply set up the 10 skittles in a triangle formation and take it in turns to bowl at them from an agreed distance. Most pins down wins!
Treasure Hunt (for the kids)
A great way to keep children entertained at a wedding is to set up a treasure hunt. The children will have to decipher clues, which reveal the location of the next clue. At the end of the hunt, you can hide a present (sweets, chocolate etc) as a treasure!
Prosecco Pong
Our personal favourite on this list, prosecco pong is a variant of the classic beer pong. Set up a table with plastic cups filled with prosecco at either end. Two teams then have to bounce a ping pong ball from one end of the table to the other, and if the ping pong ball lands in a full cup of prosecco the opposing team has to drink that cup as a forfeit. Just beware, this game can get you very inebriated if you're not careful!
Space Hopper Race
We have saved the most fun game until last! Simply set out a straight course and have your guests race each other on the 1970s toy every child wanted, the Space Hopper! We guarantee this game will have your guests laughing out loud watching their fellow guests bouncing along the course!
Contact the best marquee company Essex has!
There are many more games you may wish to offer your guests, but we hope this list from the best marquee company Essex has to offer has given you some great ideas. So make the most of the great outdoors by hiring a marquee for your big day, and give your guests a day to remember with these fun outdoor games! To get in touch to hear more about the different types of marquees available from the premier marquee company Essex based County Marquees East Anglia, please contact us here.