Spending one of the biggest days of your life as a couple in the great outdoors, surrounded by family and friends, truly is a romantic ideal. Though whilst it may seem simple to host your outdoor wedding, just like any other style of nuptials it takes a lot of planning, and a fair amount of research to get it just right. 
We've broken down five of the most important factors you should consider before planning your big day outside.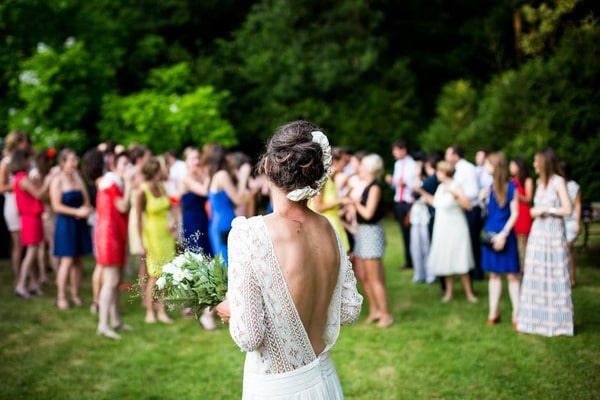 You can't legally tie the knot outside
UK law requires a wedding to take place under a fixed roof, so you can't legally exchange vows in a garden or a marquee for example. However, if this ruins the picture you have in mind for your ceremony, and you want an outdoor wedding, then tie up the legal loose ends either before or after in another location.
Unpredictable weather
We all know the British weather can be slightly maverick, even in the height of summer, but as long as you're prepared this won't be an issue. Marquees are a fabulous way of providing secure and reliable shelter that will stand up to both wind and rain if you're unlucky enough to encounter the on the big day. You could even plump for interior fire pits for a little extra warmth if you really feel you might need it- don't forget that lots of bodies create a fair amount of heat all on their own, especially in an enclosed space.
Footwear
For the bridal party, remember that if you're outdoors there may be a strong likelihood you'll have to tackle mud and/or grass, which isn't ideal if you're wearing brilliant white stilettos! Make sure you have arrangements in place, whether it be a red carpet or a special pair of white wellies if you think you might need them. Your guests will also be appreciative if you let them know well in advance that part of the wedding will be outdoors, so they can dress appropriately.
Forget traditional food
Hog roasts, afternoon tea, barbecues… an outdoor wedding opens up a whole host of wedding breakfast possibilities! If you're after a less formal feel, why not have your guests choose their own seating. If you simply must go down the traditional route, organise caterers well in advance and let them know what sort of conditions they will be working with.
Toilets
Easy to forget, but disastrous if you do!
Formore information please contact us here or visit our Facebook page here.